I've been quite inspired by strawberries lately! I guess it's the strawberry season in Belgium! Delish! =D
Cardi: H&M (though I got it second hand a few years back…)
Top Of Amazingness: H&M (Reminds me of Prince in his Purple Rain period *_* LOVE – actually when you look closely you can even see a poster of Prince on my wall there… I got it from Skooter last year XD ♥)
Belt: my mum's
Skirt: handmade
Giant Bow Made of Win: Betty Felon @ Etsy
These were my shoes… sadly the cute little bow on the side fell off and I've only one left. Aaah the pain, the mighty pain!
I actually wore this outfit Thursday to meet up with my cats at home (I'm a student living in a different town during the week D;). Oh it was beautiful…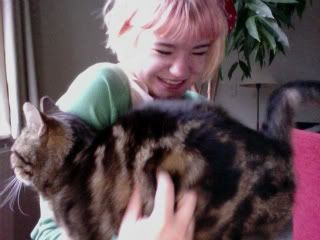 Sigh… I miss them already (I've two… but the other won't let her photograph that easily XD)
This calls for A CAT VIDEO
Sigh I keep watching this over and over and over again XDD. Te quiero mucho, Maru.